Will Contracting Business Activity Elevate Silver Prices?
Business activity declined significantly in November, according to the latest flash US PMI. Will economic decline make silver flourish?
The flash US PMI Composite Output Index declined to 46.3 in November from 48.2 in October. It was the sharpest contraction since the Great Recession , which suggests that the economy is contracting at an annualized rate of 1%. Importantly, both services and manufacturing sectors contracted. The key factors behind the decline were rising borrowing costs and inflation .
On the bright side, companies are more optimistic about the output in the upcoming months. What's more, the supply delays shortened, but it was partly caused by the decrease in demand. This improved supply performance removed part of the inflationary pressure, softening the input and selling price inflation .
Implications for Silver
What does it all imply for the silver market? Well, the latest PMI data is, from the fundamental point of view, positive for silver . After all, inflation is softening while the economy is slowing down or even falling into a recession . Such changes in the macroeconomic environment should force the Fed to end its tightening cycle and, later, to even adopt of a dovish monetary policy , including cuts in the interest rates.
However, I don't believe that silver will react strongly to the PMI report. As the chart below shows, the price of silver has recently moderated somewhat amid relatively hawkish commentaries from the FOMC members. For example, Kansas City Fed President Esther George said on Tuesday that the Fed may need to raise rates to a higher level and for longer to bring down inflation given how much spare savings people have accumulated since the pandemic.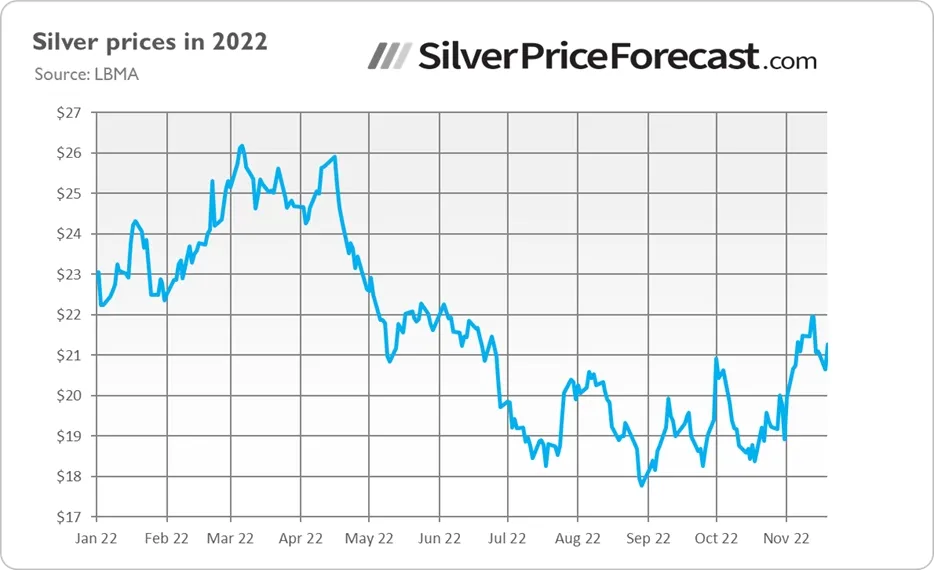 I bet that the precious metals will continue to depend on the Fed's actions and communications, as well as the expectations about the future path of the federal funds rate . I believe that we are approaching the end of the current tightening cycle , which should take some downward pressure from the silver market. Hence, the outlook for silver prices in 2023 seems to be bullish. The additional bullish factor could be the implosion of FTX, a major crypto exchange, and a possible shift of investors into tangible assets, including the precious metals.
Arkadiusz Sieron, PhD